PHOENIX
A mythical bird that is a fire spirit builds itself a nest of twigs that then ignites; both nest and bird burn fiercely and are reduced to ashes, from which a new, young phoenix arises, reborn anew to live again.
This signifies the choice of the name for the band which has members from prominent bands, current and past, reborn anew to bring life to Classic Rock and Reggae, genres favored most by the pub going crowd of Hyderabad; also staying true to the band member's musical roots.
The family
Badri: A truly versatile musician who has the ability to play any instrument, finally settled on the drums, as the original drummer of Alteregoz, now as the mainstay on the skins for Phoenix. Has been Hyderabad's best known drummer for over 20 years.
Keith: Lead guitarist for the band, also has played with known bands like Stratus, Alteregoz, and Street Lethal. He works as a live/sessions musician for the south Indian music fraternity and has performed with various music directors like Ramana Gogula and Nihal.
Ruben a hectic lifestyle of vocals in Bangalore had him seeking quieter pastures; Hyderabad brought the urge to sing back and Phoenix was waiting to cradle him back to rebirth.
Ankita: Vocals her forte, also plays keyboard among the many other instruments. Also works as a music teacher in a school.
Lokhi never say die attitude at 56 has seen him form the best bands Hyderabad has known. Bass guitarist for over 20 years for bands including Katalog, 40 year itch and Alteregoz, his one wish is to play bass till he is buried in his bass guitar case.
Pranati: Rhythm guitarist for the band gives the support required. She has also played with known bands like white noise.
The members of the band have a natural love, feel and strength in performing Classic Rock and Reggae with a vast song list that features the best recording artists known.
Pin It Now!

S.I.L.V.E.R is an Alt Rock|Prog|Funk band from Pune, India formed in the year 2007 with the very intention of creating original music. Their ethereal melodies and resonant tone combined with haunting and inspired performances make for a heady listening experience. A fun mix of musicians highly influenced by "L.I.F.E" ::: Blues, Progressive rock, Reggae,NWOBHM & yeah good `ol rock `n roll we bring you a sound that is distinctly, well, S.I.L.V.E.R..!
Members:
Mahesh Niroula - Vocals
Savio Sebastian - Guitar / vocals
Rishi Rai - Bass / ambiance / vocals
Amit Godse - Drums / percussion
Pin It Now!

The Works was formed when Mihir decided to put together a good old fashioned rock 'n' roll band. He met up with Shannon, whom he had seen before with another band and asked him if he'd like to join him in forming a new band. Shannon agreed and soon Hansel, Shannon's childhood friend joined in on drums. Partho came along next on the rhythm and lead guitar and the last person to join was Michael who stepped in on bass to complete the band.
One of the things that makes The Works stand apart is that they are totally open minded about the music that they play. Just seeing the bands they cover should give you an idea of what this implies.
They take on ACDC, Aerosmith, The Beatles, Billy Idol, Buddy Guy, Deep Purple, Def Leppard, The Doors, Eagles, Elvis, Guns n Roses, James Brown, Jimi Hendrix, Lynyrd Skynyrd, Metallica (Bob Seger actually), Motorhead, Ozzy Osbourne, Pink Floyd, Queen, The Rolling Stones, U2 and ZZ Top!
Their originals reflect their myriad influences and their songs are basically saying that "Rock 'n' roll is still alive and kicking ass!"
They got together on the 13th of August 2007 and since then have gone on play almost 30 odd shows in their first year! (Their first show was at Umang, NM College)
Earlier this year Gibson Guitars signed on The Works to an "exclusive artist deal" –making them one of the select few Gibson endorsed bands in India!!!!
They're the youngest band in India to get such a deal.
Click here to go to Gibson.com's Artist List. Click on the letter T and scroll down. You'll find The Works there!
http://www.gibson.com/en-us/Lifestyle/ArtistsAndEvents/ArtistList/Default.aspx
The producers of "Lawrence Leung's Choose Your Own Adventure", a tv show soon that aired on the ABC Network, Australia zeroed in on The Works to do a special appearance in their first episode.
This was the first time possibly that an Indian band was spotted by an international television network and asked to act in a show!
They're now looking forward to even bigger things, loads of shows all across the country and also their first album which they should start recording very soon!
Pin It Now!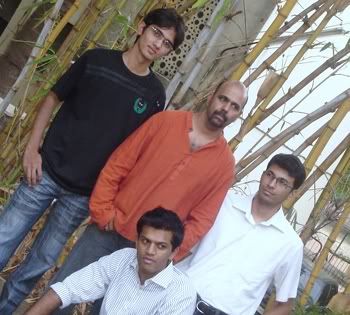 Moon beans,a young band from Pune, plays Classic rock to Pop/folk rock .With some brilliant female and male vocals . the band promises a mix bag of all-genres.
From joni mitchell to rolling stones, jack johnson to Cold Play, to name a few.
Moon beans:
Sanjeev Pandkar : Guitars/voc
Bharghav : Guitars/voc
Sundar : Bass
Rasika : Vocals
Harshad : Keyboards
Ananth : Drums and Percussions
Pin It Now!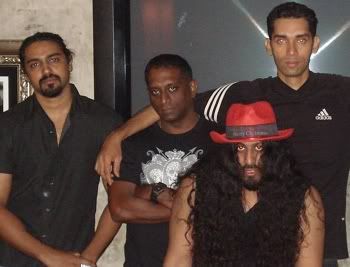 KICKSTART FREEDOM
Here's a band comprising of 5 very talented Individuals who have been part of the Indian Rock Music Circuit for more than a Decade. Each of these individuals, while excelling in their own departmnents have always been looking for a chance to break away from the ordinary, and free themselves and the audience from normal everyday sounds. More than just a band, some call this the begining of a movement that promotes free expression of thought through music.
What makes this band extremely versatile is that all of them have different influences and together they blend in to produce a brilliant mix of creativity, style and feel.
The bands influences include a whole lot of bands covering almost every genre, right from the Beatles to Audioslave. Their collective influences include Funk, Pop, Jazz, Heavy Metal, Grunge, Alternative and almost anything that you could think of.
All the above Musicians have played at the Hard Rock Cafe, Jazz By the Bay, Blue Frog and many such venues in Mumbai and various other cities on different occasions with various bands like The Other People, Retropark, Excess X, Gary Lawyer, Aqua Flow, to name a few.
WHAT PLACES THIS BAND A CUT ABOVE OTHERS IS THEIR VERSATALITY AND ALSO THEIR ABILITY TO CHURN UP TRACKS DEPENDING ON THE CROWD. THEIR REPERTOIRE RANGES FROM THE BEATLES TO PEARL JAM, LED ZEPPLIN, PINK FLOYD, DEEP PURPLE, TO COLDPLAY, LINKIN PARK, AC DC AND ALMOST ANYTHING IN BETWEEN.
Overall a very tight and entertaining act that is everready wih spontaneous compositions and crowd pleasing acts.
Cajetan D'souza (Caji) : An accomplished and very versatile musician who is equally adept at playing guitars, keyboards and also Bass. He sure is a familiar face at Hard Rock Cafe and Jazz By the Bay playing with various bands and musicians over the years. Also featured on a few music videos, this talented musician always has loads to offer.
Adrian D'mello : Adrian on Bass is the most hardworking member of the band. Always the one with the completely worked out parts. Has also done his share of Touring around the world with various musicians, is always happy to get back up on stage and Rock with the rest of us.
Cassius Fernandes : Cassy on drums is definitely the driving force behind this band and his style and technique is something most aspiring drummers wish to learn. His Skill at easily changing the complete groove of a track is definitely a rare one. Also a very familiar face in Mumbais Music circuit, having played with various musicians like Gary Lawyer, Colonial Cousins, Manasi Scott and many others.
Sujit Kumar : Sujit on vocals has also been in the scene for a long time and has been singing with various bands over the years. His style ranges right from the lows of Eddie vedder to the highs of Robert Plant and always gets the crowd going. His crazy stage antics and eccentricities are what people look out for whenever the band is on the go.
Pin It Now!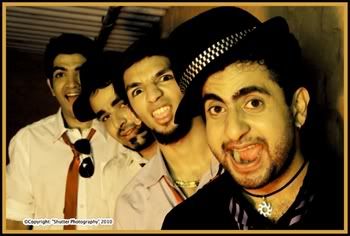 Bio:
The band was formed in 2002 while each of its members were still in school. Over the years as they progressed through school and college competitions and evolving line-ups, they managed to develop a decent fan base. After playing numerous shows in many different venues, their original music started to become quite popular amongst their audience.
As the band is known for it's foot-tapping guitar riffs and melodic pop choruses, the word of their music began to spread.
In 2007, they were one of the 4 finalists in Channel [V] Launchpad, where they played in front a crowd of almost 10,000. Ever since then, they played at numerous prestigious music festivals such as "The Eastwind Festival" and "The Great Indian Rock Festival". In the summer of 2008, they played a country wide tour where they played in cities like Delhi, Mumbai, Chennai, Bangalore, Hyderabad, Calcutta, Simla... to name a few.
Earlier this year, they signed with 44G Records and released an EP (Exptended Play) titled "Not over yet" in the month of April, which is being downloaded through out the country and has managed to maintain the band's No.1 position on the "Reverbnation Charts" As of now, they working on a full scale album, which will be released later
this year on the same record label.
Pin It Now!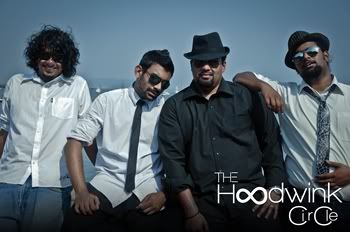 The Hoodwink Circle is an eclectic mix of performers from all over Bombay, and a super-group of some sorts. The members also play for or have played for bands like Louis Banks, Toufeeq Qureshi, Shibani Kashyap, Ash Chandler, Nandoo Bhende, Merlin Desouza, Manasi Scott, The Bombay Rock Project, Gino Banks, Para-Vayu, The Echoes, Sheldon d' Silva, Asha Bhosle, Susie Q etc; and have come together to pursue their true musical roots, which are primarily based on Funk, Alternative and their derivations.
The band was initially called Wasabi, and gained local fame by competing in a few college competitions. Around October 2008, guitarist Sanju and bassist Ishaan met through the Nandoo Bhende Band; and the band hasn't looked back since.
The Hoodwink Circle's primary musical influence is the Red Hot Chili Peppers. Apart from this, Jazz Funk, Pop/Alternative Rock, and Progressive Rock/Metal influence the band.
Impeccable music is not meant only for a niche. The band strongly believes in making technical music, at the same time making it appeal to a light listener. The band also believes in making music that is universal that stems from day to day experiences in urban India.
Members:
Aidan Lewis - Vocalist/Rhythm Guitarist
Sanju Aguiar - Lead Guitarist
Ishaan Krishna - Bass Guitarist
Joshua Vaz - Drummer
Pin It Now!