About The MOB
Roots, Rock, Reggae!
Biography
This Bart, Bob 'n Damien Marley spewing ensemble came together first in February of 2010. Their gigs have since featured artists from an eclectic background and musicality, stuck in a common groove called reggae.
Anything between a quartet to an octet on stage, their repertoire range from Bob Marley tunes and Damien Marley poetry to glitch-funk-reggae-jams, peppered with very live renditions of some original political song and some funked-up classic tunes.
Very live, very current, electric not electronic, a very hoppingly happy band you dance, not just listen to.
Current line up:
Chintan Kalra ( Parikrama, Think Floyd etc. ) : Voice
Nikhil Vasudevan ( Ska Vengers/Emperor Minge etc. ) - Drums
Raghav Dang ( Reggae Rajahs/Ska Vengers etc. ) : Guitar, Voice
Rohit Kulkarni ( Think Floyd etc. ) : Guitar
Sid Mathur ( Jolt etc. ) : Bass
Pin It Now!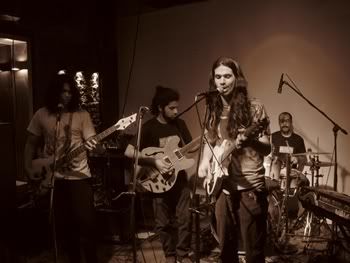 Like all good band stories, this one started not too long ago, when the band got together and seriously listened to the beginning of Martin Luther King's "I Have A Dream" speech. They quit their jobs and said goodbye to their mummies, heading on an adventure to the incubator of melody – GOA.
A good month of recording in a 150 year old Portuguese bungalow and another few months of playing the local Goan pubs got the Mavyns kick started on their musical journey to rockstardom. Cut back to Bombay where the Mavyns began playing the scene and sooner than you know it, completed a 4 city tour with the Supersonics playing 3 different HRC's, released an album and got voted as most promising indie act of the year by indiecision.com.
The best way to describe their constantly evolving sound is to listen to it and if you do come up with a term for it, mail it to them. Seriously!!!
Members:
Vivek "Sex, Drugs and Rock n' Roll" Nair - Keys / Guitars / Vocals / Guy who turns the amps on and off
Vivek is the most non-racist guy you will meet. For instance, he loves both the black and white keys on his piano equally. In fact, he has even named each and every one of them individually to make each feel special.
Being super duper smart, Vivek spends most of his time arguing and having intellectual debates with the only other fellow who can somewhat match wits with him - namely his reflection. Most of his love songs were written during those wonderfully emotional moments. He just changed the names later.
He hopes one day to own his own Dodo bird. He refuses to believe they are extinct. He also believes Elvis is alive and spends most of his free time in Goa trying to find him.
Vivek's dream is to invent a time machine, so he can finally return home to the '60s.
Pradeep "Superstar" Mathews - Lead Guitar/Vocals/Wah-Wah & Other funny noise maker
Pradeep is the 'blue-eyed boy' of the band. Or is it green? We are not entirely sure. But we know for certain they do turn red after his regular jaunts to Aunty Mary's Bar.
When not shredding solos for the Mavyns, Pradeep spends most of his time persuing his true dream in life - Winning the 'Bob Dylan International Karaoke Championship'. The way he keeps practicing, we're sure it won't be long before he does.
An intellectual underachiever to the core, Pradeep is usually found contemplating the mysteries of life or trying to figure the sound of one hand clapping.
He also enjoys playing football and alligator wrestling, and has been known to dabble in other physically demanding sports like Snakes & Ladders and Ludo. One day Pradeep hopes they will name a guitar string after him, specifically the G-string.
Kristofor Paul "Bad-Ass Chocolate Thunder" Mendonca - Drums / Percussionist, Vocals, General nice guy
When asked about what role he played in the band, Kris replied, "I hit things." And that's all he was gonna say about that.
Apart from band time, Kris enjoys long walks on the beach and candle light dinners. He also enjoys reading Shakespeare and listening to opera, especially the stuff sung by Pavarotti and the other two guys. Most times you will find Kris lying on his bed watching the fan spin round and round and round and round.
All in all, he is a really nice guy and has been unanimously voted by the other band members as - "Most likely the one NOT to be arrested for possession of marijuana or dangerous weapons."
Varoon "Sugarush" Nair - Bass player / Vocals / Training Pilot / Roller of various items, excepting guitar cables
Varoon said he would hit me with his "man purse" if i didn't mention that he studied at the same school as the great Freddy Mercury. Needless to say, Varoon is following Freddie's footsteps in more ways than one. We don't judge, we just create restraining orders.
Varoon prides himself on being the only bassist who also plays harmonica. He also prides himself on his very tight buttocks, not to mention his ability to talk when no one is listening.
Varoon spends most of his free time finger painting and coming up with new ways to plug the hole in the ozone layer.
One day Varoon hopes to open his own music shop in Antartica.
Pin It Now!