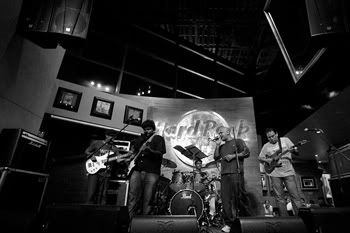 AlterEgoz was formed in the year 2001 although the members of the band have been playing since the mid 90s.
AlterEgoz's influences are the Beatles, Jethrotull, Led Zeppelin, Rush, Pink Floyd, ZZ Top, Deep Purple, Allman Brothers, Grateful Dead, Yes, The Who, Police,....... and many more great bands and individuals. It's not possible to name all of them.
Originally all the 6 compositions have been made to English Lyrics. Due to a possibility of a few of them threatened to be used for films, we have made them bi-lingual. Songs like Conscious – Shakti, Belly – Naya Naseeb are in English as well as Hindi. All our OCs are immensely appreciated by our audiences and Shakti and Naya Naseeb are popular due to their strong lyrical content – Shakti being on Women and Naya Naseeb on Child Labour.
While we have performed at many places, our most memorable performances have been at the Passport pub and The Under Deck at the Taj as we have done many a theme events here – like the Pink and Black show( Floyd and Sabbath), Jail House Rock, Glam Rock era etc.
Big events have been the ones we did at the Marriott for New Year's eve in 2008 and 2009, Infosys campus event, Ascendas Corporate event, Airtel Live in 2007 where we played along with some big names like Soul Mate, Skinny Alley, Mrigya, Parikrama etc. AlterEgoz have been playing regularly at HRC Hyderabad.
Band Members:
Som – Vocals – is an accomplished singer and has experimented with many local musicians, leading to an array of live stage performances, rock n metal bands, night club concerts, voice recordings over the last 15yrs, while composing music for new media and interface design. Som has been one of the architects of the band. Raw power is his forte.
Anuj – Bass Guitar - Anuj is the youngest member of the band. Started Bass guitar in September 2006 with his first performance in the Campus Rock Idols. Before AlterEgoz, he played for Ataraxia.
Vijay – Guitars- Vijay plays rhythm and lead for AlterEgoz. Apart from being one of the architects of the band Vijay also into composing, having composed many a score for corporate films, couple of ad jingles and also a serial for TV.
Sanjay – Drums - Sanjay is one of the best drummers of Hyderabad. Apart from playing drums for AlterEgoz, he is also instrumental in doing recordings for the band. He has his own Studio called Tapeloop Productions. His other band is called Catharsis, which has won the recent AR Rahman's Ooh La lah contest. Their songs have been released by Rahman in August 2009.
Vivek – Guitars – An accomplished musician, Vivek is also a composer doing music for a Telugu film.
AlterEgoz is purely a classic rock band. Experimentations with Funk do show up sometimes when attempting Beatles and OCs. Pure classic Rock from the 60s to the early 80s.
The band has a very cool attitude. AlterEgoz is not a stiff band though you cannot expect any pyrotechnics or glamorous stage acts. We thoroughly enjoy ourselves on the stage and that carries across to the audiences. Som tries to be interactive with his one liners to somewhat lengthy discussions.
Pin It Now!