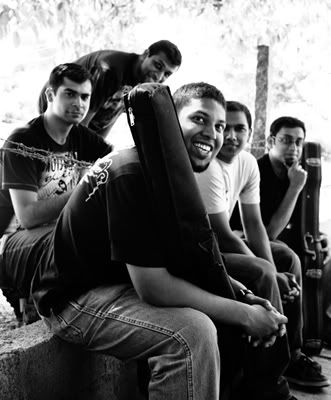 Chimera started off true to its meaning, as a vain or idle fancy, a figment of one's imagination which was thought to be impossible because the members of the band were not only from different backgrounds but also into different styles of music. The only thing that binds them together is the undying desire to rock and kick some serious ass on stage. Today, roughly 6 years after the conception of the band, CHIMERA is very "possible" and very ready to cause some serious damage to those who desire it. The members of the band maintain that there is no such thing as, "The Best Band" or "The Perfect Song".
Every band has its own sound and identity; every song has its own feel and meaning and should be respected for everything that it stands for. Music is an expression, not a competition. It is this very same philosophy which explains why Chimera prefer Kicking ass on a stage set up in the middle of the street where the crowd is.
Chimera is all about "PERFORMANCE", the undying dream of ruling the stage... Chimera was originally founded in Manipal, Karnataka and has played many shows across South India and participated and won competitions at many college fests including their own. Chimera is back with a new vocalist and a new attitude to rock your socks off with their Rock n Roll and hard rock music styling.
Chimera came out of hibernation after 2 yrs and won the Economic Times Rock Challenge 2010 in December and walked away with the 'Best Vocalist' and 'Best Bassist' awards, a prize trip to Abu Dhabi to watch Guns and Roses-live and not to forget, opening for Indus Creed's second coming on to the Indian Rock scene. Extensive media coverage and very 'Chimera like high energy performances' in front of Bangalore crowds and top musicians has led to Chimera being rated alongside some of the top bands from Bangalore.
Chimera harnesses the true power of five individuals and snippets of everyone's style can be observed in every new original that is composed. It is recognition of this ability and more importantly the freedom of music - expression that has led to Chimera's determination towards making original music over the past 6 years.
Chimera recently started recording their first album sponsored by Chamundeswari studios, Bangalore and intends to clearly pass on a strong message through 'smile/love/tear/fear/rage and high energy…
"Don't give in… DON'T GIVE A DAMN"!!!!
Pin It Now!