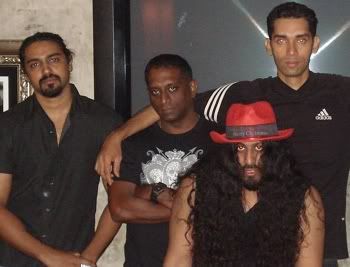 KICKSTART FREEDOM
Here's a band comprising of 5 very talented Individuals who have been part of the Indian Rock Music Circuit for more than a Decade. Each of these individuals, while excelling in their own departmnents have always been looking for a chance to break away from the ordinary, and free themselves and the audience from normal everyday sounds. More than just a band, some call this the begining of a movement that promotes free expression of thought through music.
What makes this band extremely versatile is that all of them have different influences and together they blend in to produce a brilliant mix of creativity, style and feel.
The bands influences include a whole lot of bands covering almost every genre, right from the Beatles to Audioslave. Their collective influences include Funk, Pop, Jazz, Heavy Metal, Grunge, Alternative and almost anything that you could think of.
All the above Musicians have played at the Hard Rock Cafe, Jazz By the Bay, Blue Frog and many such venues in Mumbai and various other cities on different occasions with various bands like The Other People, Retropark, Excess X, Gary Lawyer, Aqua Flow, to name a few.
WHAT PLACES THIS BAND A CUT ABOVE OTHERS IS THEIR VERSATALITY AND ALSO THEIR ABILITY TO CHURN UP TRACKS DEPENDING ON THE CROWD. THEIR REPERTOIRE RANGES FROM THE BEATLES TO PEARL JAM, LED ZEPPLIN, PINK FLOYD, DEEP PURPLE, TO COLDPLAY, LINKIN PARK, AC DC AND ALMOST ANYTHING IN BETWEEN.
Overall a very tight and entertaining act that is everready wih spontaneous compositions and crowd pleasing acts.
Cajetan D'souza (Caji) : An accomplished and very versatile musician who is equally adept at playing guitars, keyboards and also Bass. He sure is a familiar face at Hard Rock Cafe and Jazz By the Bay playing with various bands and musicians over the years. Also featured on a few music videos, this talented musician always has loads to offer.
Adrian D'mello : Adrian on Bass is the most hardworking member of the band. Always the one with the completely worked out parts. Has also done his share of Touring around the world with various musicians, is always happy to get back up on stage and Rock with the rest of us.
Cassius Fernandes : Cassy on drums is definitely the driving force behind this band and his style and technique is something most aspiring drummers wish to learn. His Skill at easily changing the complete groove of a track is definitely a rare one. Also a very familiar face in Mumbais Music circuit, having played with various musicians like Gary Lawyer, Colonial Cousins, Manasi Scott and many others.
Sujit Kumar : Sujit on vocals has also been in the scene for a long time and has been singing with various bands over the years. His style ranges right from the lows of Eddie vedder to the highs of Robert Plant and always gets the crowd going. His crazy stage antics and eccentricities are what people look out for whenever the band is on the go.
Pin It Now!