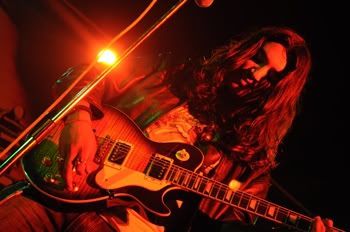 Girish and The Chronicles were formed on 18th of octber 2009 in Gangtok, Sikkim (India). Already gaining some reputation as one of the fine rock singers in the country, through You Tube (Search Girish Pradhan), Girish Pradhan formed this band with a motive to revive Hard Rock, Slow Rock, Blues Rock and Heavy Metal. After a few concerts and gigs in their home town such as Sikkim Area Convention Narcotics Anonymous III the band decided to start taking part in some of the major Rock competitions in the country (2010) such as Rock o Phonix - IIT Guwahati. After winning and Gaining Positions in a few such competitions (-Pyrokinesis, Assam Engineering College; - Sinchisis, Guwahati Medical college; - Rock o Phonix, IIT Guwahati; - Eclecia, Heritage College, Kolkata; - Srijan fest, - Avalanche, ISMU Dhanbad etc.) and also the frontman Girish Pradhan, Bagging the best vocalist awards in all of them, and Guitarist, Suraz Karki bagging the best guitarist awards in most of them, the band immediately started getting headlining acts in the College Festivals such other Rock festivals, quickly gaining a lot of popularity in the press and media and creating a big fan base. The Media became aware of this. Girish and The Chronicles' performance at Rabindra Bhawan, Guwahati, on 27th of June, 2010, was telecasted live, nationally on the NE Doordarshan channel.
The band was just doing good, when they took it to another level by participating and winning the auditions held at Shilpgram, Guwahati, for the Suncane Skale Festival, Montenegro, Europe. Their song "Angel's Angel" or more popularly known as "The Yester Years" was nominated to be compiled and judged at the Suncane Skale Music Festival, held at Montenegro, Europe, thus giving the band a chance to represent India on a Global Scale. Out of the many participants from Europe, Girish and The Chronicles represented India in foreign soil and bagged the Silver Trophy for their song "The Yester Years", or "Angel's Angel".
Presently, touring, Girish and the Chronicles are releasing a Rock/Hard Rock/Heavy Metal album within mid month of 2011 yet upgrading their list of ventures and Chronicles.
Pin It Now!