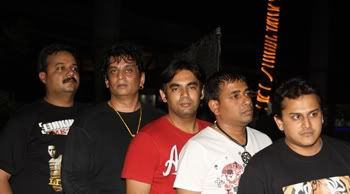 "Music is a higher revelation than philosophy."

A group of like minded musicians came together and thought that they could share their talents to create a musical outfit. No sooner did the notes hit right, there was an events horizon with a sparkling radiance of warmth and a foreseeable longstanding camaraderie.

A few rehearsals were enough to baptize this as, Retro Legendary Act, only to mean that the music that emanates from the souls of these musicians sound rich and logical to one and all.

Endeavoring to typecast this band is futile as there has been an extensive and exhaustive thought put into this taking into consideration the likes and dislikes of the English music loving crowd and songs that would be liked and enjoyed by music lovers from all walks of life.

Saying this, the band is now on the edge of the stage, all ready to walk on, and exhale its energy in a prismatic radiance, but only after the chemistry bonded well after 3 months of strenuous rehearsals.

THE BAND

Retro Legendary Act comprises of:
Vijay – vocalist for the band (powerful enough to be heard in a stadium without mics).Hailing from a rich musical past, Vijay has been delivering music for the musical masses for over 2 decades.

Ritesh (lead guitars) – uses Samick, and Ibanez guitars coupled with a Zoom and Digitek run through a Marshall amp.

Selvin (bass guitar) – uses a Yamaha bass (even belts out great melodies on a fretless bass if required)

Hrishi– uses a crisp sounding drum kit and can thunderstruck with his lightening solos.

Sourabh (keys) - adept at belting out a variety of musical forms. Uses a Korg Triton and can be a killer on the Hammond forms of backups.
Pin It Now!