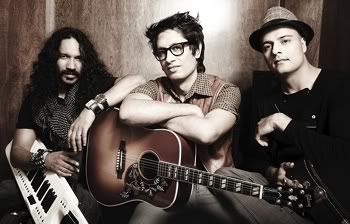 EKA is a Delhi based band comprising of Benjamine 'Benny' Pinto on Keyboards (Ex-Euphoria), Hitesh 'Rikki' Madan on guitars and vocals (Ex-Euphoria) and Lokesh Madan on vocals and bass. The members of EKA are seasoned musicians and have performed at over 2000 concerts in 15 countries and have recorded over 100 songs in various capacities. Some of these performances include the Indo-Pak peace concert at the UN General Assembly Hall, New York, the Great Wall of China and the Beale Street Music Festival in Memphis, U.S.A.
EKA calls its music 'Swatantra Rock' - music beyond music, time and boundaries.
A snapshot of EKA's recent concerts is as below:
• An UN initiative, Pledges to Action, inaugurated by President of India- Eka's original song, Chalte Jaana was chosen as the theme song
• NID, Ahmedabad for a Zee Business reality Tv show called Aspire - The Music to Money Challenge. EKA has composed, produced and performed the title track for this show on air currently. EKA was also on the jury for a few episodes of the program.
• 41st International Film Festival of India (IFFI) 2010, Goa - EKA played at the opening ceremony
• PESIT Management college, Bengaluru
• "I Am Gurgaon" - a prestigious fund raising event
• Headlining act for Jack Daniels Annual Rock awards 2010 Build-up tour at Hard Rock Cafe, Delhi (in association with Rolling Stone Magazine)
• Goa's 50th Liberation Day celebration, Goa
• Grand Finale of Bengaluru Habba 2011
• French Embassy Fund Raiser for Street Children
• Faculty of Law, Delhi University
Pin It Now!