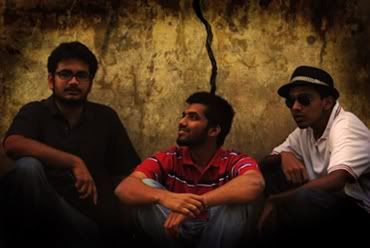 Blacklisted was formed in late 2008, when two college going students of Madras Christian College ( hehehehe, college going yeah right! ) Being bored and jobless, and with a sense of achieving something in life, Booby and Ninju decided to start a band and do something different with their spare time. With the inclusion of Ritwik and Samudra the band was complete.
We spent a year, playing competitions and shows around India and ended up building a fan base. The highlights of our short career have been winning NLS Strawberry Fields 2009, Going to hyderabad to participate in the 2ng leg of Campus Rock Idols 2009 and several other awards and accolades that were won in due course. We really haven't come up with a real ''definition'' for the music we play, as we draw influences from various kinds of music. Hence, We hide under the banner of Alternative Rock. Sriram now handles the low end of the scene, more widely known as the guitarist/vocalist of the band Skrat.
Former members:
Preetham Thapar - Vocals and Stage-Diving Antics. Joins Blacklisted on certain
occasions to belt out some RATM covers or join in on a few originals.
Ritwik Krishnakumar - Bass.
Pin It Now!