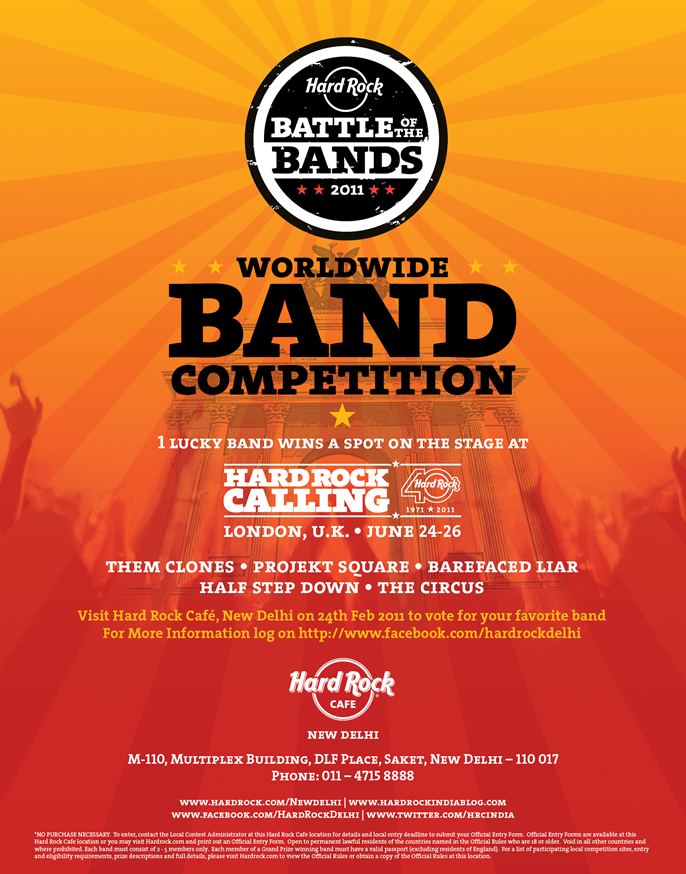 The Hard Rock Battle Of The Bands is a competition between bands from around the world. The winning bands get flown to London and are given a spot on the bill at Hard Rock Calling, a three-day music festival at Hyde Park, London held between Jun 24-26, 2011. This year, marking the 40th anniversary of the brand, the competition goes international; the first Global Ambassadors of Rock Battle of the Bands.

Here are the 5 bands that will be battling out at Hard Rock Cafe New Delhi on 24th February!! Don't miss them:

1. Them clones 2. Projekt square 3. Barefaced Liar 4. Half step down & 5. The circus.



Bands will need to perform two original songs each at the gig, and the winner of the local final will be chosen based on scores accumulated by celebrity judges, ballot voting at the venue by fans and online voting for two days after the gig. The winner will be announced on Feb 27.

On March 3, the local winner in each city will perform a full set at the respective Hard Rock Cafe. This must include two original songs and one Bon Jovi cover song. Three songs (including the cover song) from this performance will be filmed and sent as entries to the regional finals where bands from around the world will also participate. There are 4 regions from which 1 winner each will be chosen. The 4 regional final winners will get an all expenses paid trip to London, and a spot on the bill at one of the UK's biggest music festivals – Hard Rock Calling!

Note: A Band can be selected to perform at any Hard Rock Cafe in the country, not necessarily in the city where the band is located.

Rules/Regs:

http://battle.ambassadorsofrock.com/
Facebook Event Page
Pin It Now!